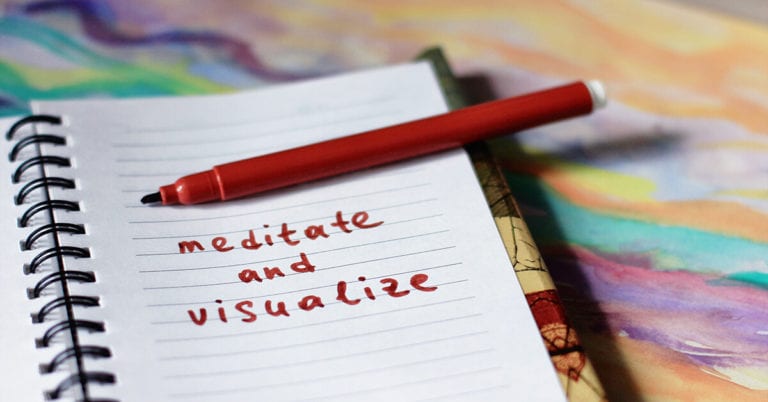 Whether you're preparing for a big presentation, an important sports game or attempting a complicated recipe, you may be surprised to hear that your chances of success are heightened if you visualise the challenge going well.
While imagining yourself pulling a perfectly baked sourdough loaf out of the oven may seem a little wacky, this technique is regularly used to help people from all walks of life to achieve their goals.
Visualisation is picturing in your mind the outcome of something before it has happened. Athletes and influential figures often use this technique, but it's also highly effective when practiced day to day. Using your mind to impact physical performance is a skill well worth mastering!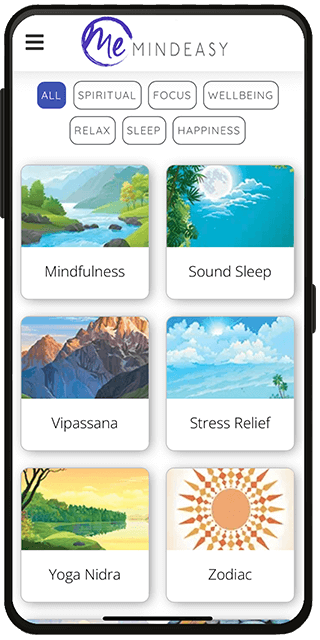 Join over 50'000 people on their meditation journey.
What is a Visualisation Meditation?
A visualisation meditation involves using your mind to influence how your body behaves. This can be done in a variety of ways. Many people use visualisations to help them achieve their goals or improve their performance in certain areas, while others use visualisations to help them sleep at night or reduce the symptoms of anxiety. 
A visualisation meditation uses imaginative techniques and visuals to influence the physical body. Many people use visualisations to help them achieve their goals. Through imagining something going well, you'll experience the emotions and feelings that come with these achievements.
Not only can this help you perform better, it'll also boost motivation, aid focus, ease anxiety and bring positive energy to your mind and body. This technique is commonly used by athletes, and can be invaluable if you work in a high-pressure job.
Visualisation exercises can also be used to release stress and tension in the body, which can be especially helpful if you struggle with panic attacks. Guided meditations often encourage you to visualise a safe and comforting place.
Taking note of even the smallest details of this place, such as the sights, sounds and smells, will help cement this environment into your mind. When times get tough, you can return to this place for some calm and serenity.
What are the Benefits of a Visualisation Meditation?
The benefits of a visualisation meditation can vary depending on the type of meditation you choose to practice. Those focused on goal setting and achieving can help improve performance, boost motivation and increase positive thinking. Visualisations focused on relaxing the body and mind will ease anxiety, reduce insomnia symptoms, and help you get through difficult days.
A visualisation meditation focused on setting and achieving your goals has a huge range of benefits. If you're feeling stuck in a rut, imagining yourself in your dream life having achieved what you set out to do can give you a boost of motivation.
Imagining the end goal and the feelings that accompany this success can make almost any goal seem a little more achievable. By stimulating your mind and body with the emotions that come with success, you'll feel more positive and motivated to tackle what lies ahead.
Visualisations can also help increase positive thinking day to day, which can decrease stress and anxiety. No matter how dull your day looks, visualising your body radiating positivity and love will help you bring joy to everything you do.
If you're struggling with tricky co-workers or family difficulties, visualising yourself glowing with loving kindness can help you to see people in a better light and repair fragile relationships.
Those who suffer from insomnia and panic attacks can also benefit greatly from visualisations. Imagining each body part relaxing one by one can help to prepare your body for sleep. Visualising a safe and secure place can help put your body into a state of deep relaxation, easing symptoms of panic attacks.
Visualisation Meditation Techniques
A range of techniques can be used for a visualisation meditation, but one of the most powerful is using meditation to help you achieve your goals. To make the most of your goal setting process, it's important to link achieving your goal to your quality of life. Try to visualise not just yourself achieving the goal, but all the emotions and energy that comes with this achievement. 
Find a comfortable spot to sit, and think of an area of your life that needs work.

You could already have a goal in mind, or you may find that something comes easily to you.

Take a few minutes to focus on your breath, then start to imagine what your life will be like once you have completed this goal.

You may be picturing yourself crossing the finishing line of a marathon, or being called into work for a promotion. If there's something in the future you are nervous about, try to go there in your mind and imagine it going well.

Create a picture in your mind and try to see your achievement through your own eyes.

Notice the sights, sounds, smells and tastes. Notice the other people around you, and how they respond to your achievement.

Next, visualise yourself outside of your body, watching the scene from above.

Use your breath to bring positive and active energy to the scene playing out in front of you. Once you feel you have fully taken in the scene, come back to the present.

Take a few minutes to sit with the energy and emotions you have created.

Channel this energy into achieving this goal, using the same visualisation to boost your motivation if it starts to wane.
Visualisations can be exceptionally powerful and involve using the mind to impact how the body behaves.


Many athletes and influential figures use visualisations to help them stay calm and perform well under pressure.


A guided visualisation meditation can be used to help you achieve your goals.


Spending a few minutes each day visualising yourself achieving your goals can be hugely effective, helping you to stay motivated and focused when times get tough.


Visualisations can also be used to fully relax your body ready for bed, ease anxiety and help prevent panic attacks.