Increase your energy, gain control over stress and improve productivity
These practices cultivate positive energy and encourage it to flow throughout the body, leaving you feeling invigorated and revitalised.
We're all guilty of taking things for granted, and this course can help reignite your sense of wonder and live life to the full. You'll learn to appreciate the world around you, making a walk in the woods, a catch up with a friend or a delicious meal all the more special.
A morning meditation can have a profound effect on your ability to deal with stress and anxiety. This course will bring positive energy to your day and equip you with the tools needed to deal with tricky times.
By practising these meditations in the morning, you'll be filled with a drive to embrace the day and conquer that to-do list! Both your body and mind will feel focused, revitalised and invigorated.
This 5 part course, led by best-selling author Marisa, will help you start your day in the best way possible. Stretch your body, cultivate energy for the day ahead and experience an invigorating sense of wonder and gratitude – even on a Monday! Both your body and mind will thank you.
By the end of the course you should feel more appreciative, joyful and have a better connection to the world around you. You'll be ready to live your life in the here and now.
Each meditation is just 10 minutes in length, making it the perfect start to the day.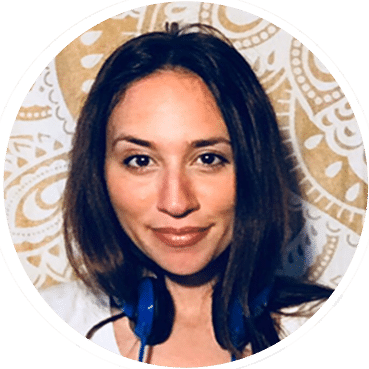 Marisa Imon is the internationally bestselling author of Super Intense, a book about how meditation can turn you into a superhero. She is also an award winning composer and host of the unconventional meditation podcast, Incandescent.
Living with bipolar type 1 she promoted the use of mindfulness skills to help her live her life well and deal with emotional intensity. 
Combining both her musical skills and her deep knowledge of meditation she has produced this morning meditation – sound awakening course with MindEasy to create the perfect atmosphere for a productive and invigorating morning.
The Sound Awakening course will encourage you to live your best life and embrace the day no matter what it throws at you. It's all too easy to get stuck in a rut of negativity and 'going through the motions'. This course is designed to fill you with a joyful energy and gratitude that you can take with you into the rest of the day.
The first few days of this course focus on a 'fresh start' and encourage you to see the world with a new outlook. We sometimes forget to appreciate what's around us, whether it's a delicious morning coffee or the beautiful autumn colours on a morning walk. These meditations will help you bring a sense of wonder and positivity to your day.
You'll learn to be grateful for the world around you and maintain this appreciation even when times get tough. You'll develop a willingness to live life to the full and feel clarity in your life's direction.
Sounds meditation has been practiced in cultures all across the world with ancient roots, including Tibetan singing bowls and Aboriginal tribes using didgeridoo's as healing instruments.
Is the Sound Awakening Course for Me?
It's all too tempting to start your day with a mindless scroll through Instagram or the morning news, but this can actually have a negative impact on your mood and energy levels. A Sound Awakening practice is an invaluable addition to your morning routine, encouraging you to fill your day with wonder and joyful energy.
With each meditation lasting just 10 minutes and able to be practised from the comfort of your bed, this course is for anyone who wants to start the day with a restored sense of peace and positivity.