California Psychics Review 2023: A Deep Dive into Psychic Services, Features, and Expertise
Are you looking for reliable online psychics to guide you through life's challenges? With so many psychic websites available, making an informed decision can be overwhelming.
In this review, we'll dive deep into California Psychics, a popular platform that offers a wide range of psychic services, to help you determine if it's the right choice for your spiritual journey.
California Psychics has been a trusted source for psychic advice since 1995, providing various types of readings such as tarot, astrology, and divination to thousands of satisfied clients worldwide.
Our comprehensive analysis aims to give you a better understanding of the platform's features, advisor selection, and overall user experience.
By the end of this review, you'll have all the information you need to decide if California Psychics is the perfect destination for your next online psychic reading.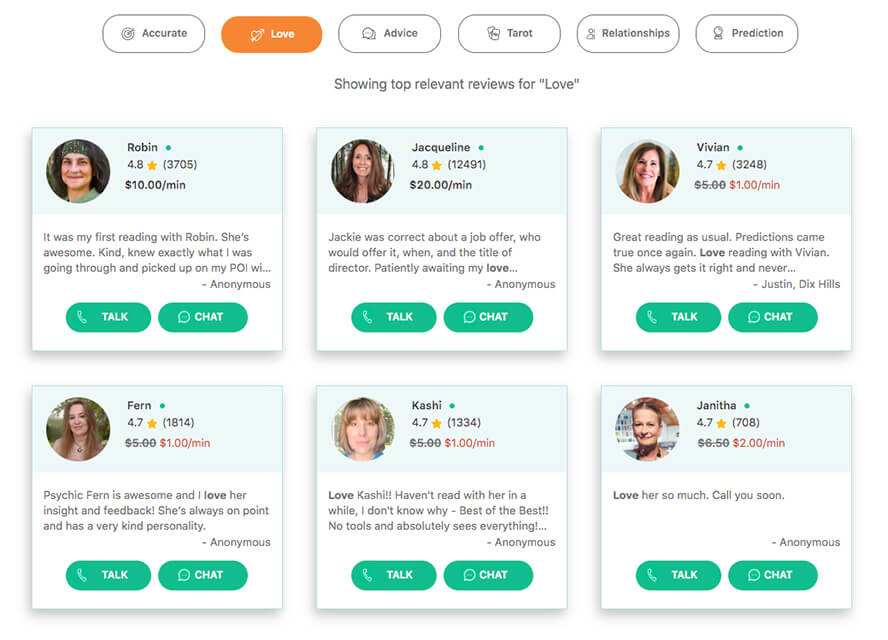 California Psychics Services Overview
California Psychics offers a wide range of psychic services to cater to various spiritual needs.
The platform specializes in phone readings and chat readings, providing users with convenient and flexible ways to connect with their advisors.
Their extensive selection of psychic readings includes tarot readings, astrology, clairvoyance, mediumship, love and relationship guidance, career and finance advice, pet psychics, and dream analysis, among others.
This diverse range of psychics ensures that clients can find the perfect advisor to address their unique concerns and questions.
For first-time customers, California Psychics has an attractive pricing structure designed to fit different budgets and preferences. Their introductory packages are as follows:
Affordable – Access to the newest psychics on the platform (over 299 to choose from) for $20. Ideal for those who are curious and want to explore the platform's offerings.
Popular – Access to the Most Popular Psychics on the platform for $40. Recommended for individuals seeking trusted and well-reviewed psychics for guidance.
Premium – Access to the Premier Psychics for $80. Designed for those with more complex questions and seeking top-notch psychic expertise.

These introductory packages are exclusively for new members and provide an affordable way to experience the wide range of services California Psychics has to offer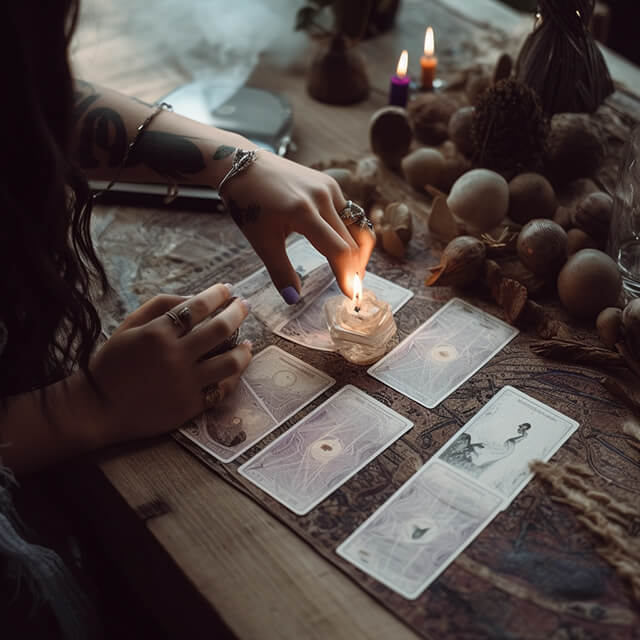 My Experience With California Psychics
As someone who has explored various psychic websites, I was eager to try California Psychics and experience their psychic services firsthand. I chose a gifted psychic named Fern for a tarot card reading to help me navigate my life path. The introductory rate made the decision to book a session even more enticing.
From the moment our session began, I was impressed by Fern's warm demeanor and intuitive understanding of my situation. She provided a precise reading, delving into specific aspects of my life path, and offered valuable insights that resonated with me on a deep level. Her tarot card interpretations helped me understand the different paths I could take and the potential outcomes of my choices.
My experience with Fern and California Psychics was truly enlightening, reaffirming my belief in the power of psychic guidance. Thanks to her expertise and the platform's user-friendly interface, I felt comfortable and confident in my decision to seek help with my life path through a tarot reading.

Comparison with Competitors
Psychic Platform

Price Per Minute

Reading Options

Introductory Offer

Unique Features

3 free minutes and up to 70% off first session

Extensive psychic selection, mobile app

3 free minutes or 10 minutes for $1.99

Satisfaction guarantee, large psychic network

$1 per minute for 10, 20, or 30 minutes package

Membership rewards, video readings

$1, $2, or $4 per minute based on tier level for new customers

Natal chart readings, member rewards

30 Minutes for $30, 40 Minutes for $40, 5 FREE Elite/Master Mins, Ask a FREE Question

Elite psychics, in-depth profiles
California Psychics vs. Kasamba
When comparing California Psychics to Kasamba, the former seems to be a better overall choice. Kasamba's maximum rate is double that of California Psychics, reaching up to $30 per minute.
Despite Kasamba offering a 70% discount on your first reading, California Psychics' introductory rates range from $1 to $4 per minute, making it more affordable.
California Psychics also offers more value for money, including phone readings, free natal chart readings, and a members reward system, as well as exceptional customer service.
California Psychics vs. Psychic Source
Both Psychic Source and California Psychics are renowned for their high-quality customer service and longstanding history of accurate readings.
Psychic Source's prices are slightly higher, ranging from $4.99 to $15 per minute, compared to California Psychics' $1 to $15 per minute. However, both platforms have attractive offers for new clients at just $1 per minute.
Furthermore, both websites feature membership rewards programs, which is a rare perk among psychic reading services. In terms of overall experience, these sites are evenly matched, but Psychic Source does offer video readings, a service California Psychics does not provide.
California Psychics vs. Ask Now
When comparing California Psychics to Ask Now, both platforms have fairly similar price ranges. California Psychics offers rates between $1 and $15 per minute, while Ask Now has a comparable pricing structure.
oth platforms provide chat and phone readings, but California Psychics features tier-based pricing for new customers, offering rates of $1, $2, or $4 per minute.
The key focus of California Psychics is on natal chart readings and member rewards, whereas Ask Now emphasizes its Elite psychics and spiritual guidance.
If you have a strong interest in astrology and natal charts, California Psychics may be the more suitable option for your needs.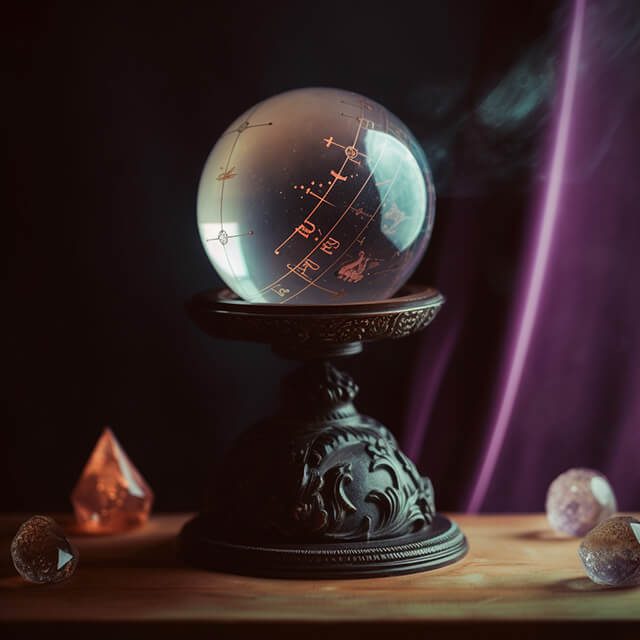 Psychic Advisor Selection and Screening Process
California Psychics takes the selection and screening of their psychic advisors seriously, ensuring that users have access to proficient and reliable psychics.
They employ a rigorous screening process, which involves multiple stages of evaluation and interviews to assess the psychics' abilities and expertise.
The availability of advisors on the platform is vast, allowing users to find a preferred advisor that suits their specific needs.
California Psychics boasts a diverse pool of psychic talents, with advisors specializing in various fields such as tarot, astrology, clairvoyance, and more. Users can browse through the advisor profiles to gain insights into their skills, experience, and customer reviews, which helps in selecting the best fit for their needs.
This meticulous selection process ensures that only the most capable and accurate psychics are part of the California Psychics community. Users can trust that they will receive valuable guidance and advice from these carefully chosen advisors.

Customer Support and Satisfaction
California Psychics takes pride in providing a responsive and reliable customer service department, which aims to ensure user satisfaction.
In addition, they offer multiple customer support options, including live chat, phone, and email, to accommodate the preferences and needs of their users.
The customer service office is dedicated to addressing any concerns or issues that users may have with their psychic readings or overall experience on the platform. They are committed to resolving any problems promptly and professionally, demonstrating their dedication to customer satisfaction.
While it is natural for some negative reviews to exist, the majority of users report positive experiences with California Psychics. Many customers praise the platform for its insightful readings, knowledgeable advisors, and accessible customer support.
Additionally, California Psychics offers a customer satisfaction guarantee, which allows users to request a refund or credit if they are dissatisfied with their reading. This guarantee demonstrates the platform's confidence in the quality of their psychic services and their commitment to customer satisfaction.

Unique Features and Benefits
California Psychics stands out from its competitors through a variety of unique features and benefits that cater to the needs of their users.
One such feature is the Karma Rewards program, which allows users to accumulate points for every dollar spent on the platform, redeemable for discounts on future readings.
The platform offers lower-priced spiritual advisors, ensuring that users with different budgets can access their services.
Their 3-tier system categorizes psychics according to experience and skill, making it easy for users to find the right advisor within their budget.
California Psychics also boasts a diverse selection of clairvoyant psychics, providing users with access to a wide range of expertise and reading styles. This variety ensures that users can find the perfect match for their specific needs.
Introductory readings at discounted rates are another unique feature of California Psychics, allowing first-time users to experience the platform's services without committing to a higher cost.
Lastly, the strict screening process employed by California Psychics sets them apart from competitors. This thorough selection method guarantees that users receive readings from highly skilled and reliable advisors, ensuring a quality experience on the platform.

How to Make the Most of Your Psychic Reading
Follow these tips and suggestions to get the best possible experience from your psychic readings on California Psychics.
First, consider trying one of the introductory packages, which offer access to various psychic advisors at a discounted rate.
This allows you to test the platform's services and find the psychic who resonates with you the most.
Take the time to research different psychics and their instruments of divination, such as tarot cards, astrology, or clairvoyance, to better understand their reading styles and areas of expertise.
This knowledge will help you choose the psychic who best aligns with your needs and preferences.
Lastly, approach your psychic reading with an open mind and be willing to actively engage in the conversation.
Asking specific questions and providing honest feedback can help your psychic advisor guide you towards making correct decisions and gaining valuable insights from your reading experience.

In summary, California Psychics stands out among the numerous psychic websites available online.
Their stringent screening process ensures that their advisors are reliable, proficient, and able to provide valuable insights to users.
With decades of experience in the psychic industry, California Psychics has built a strong reputation for offering exceptional service to their clients.
The platform offers a wide range of reading styles, including phone psychic and email readings, catering to the preferences of different users.
Moreover, their tiered pricing system makes their services accessible to people with varying budgets, while their introductory packages allow first-time users to explore the platform with minimal commitment.
Considering the depth and quality of the psychics' reviews, as well as my personal experience with the platform, I highly recommend California Psychics to anyone seeking guidance in their personal, professional, or spiritual life.
Whether you are a first-time user or have had readings in the past, California Psychics is an excellent choice for accurate, insightful, and life-changing psychic experiences.
MindEasy founder & meditation teacher
Griff Williams is an accredited meditation teacher and founder of MindEasy. He spent 12 years working as a London firefighter before changing paths to pursue building MindEasy. He received his diploma in meditation teaching from The British School of Meditation.