Best Zen Garden Kit: Relive Stress and Bring Tranquility Into the Home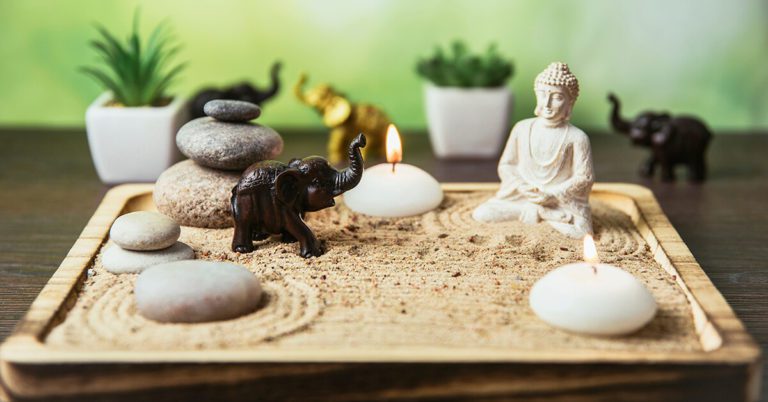 Are you a nervous fidgeter, or do you know someone who is?
Mindlessly tapping the table with your pen, shifting your weight around, or even doom-scrolling on your phone?
Fidgeting is generally a symptom of stress and anxiety bubbling into a physical manifestation.
How about redirecting that nervous energy into a form of mindful movement that can defuse your stress and allow you a few moments of tranquility?
A mini Zen garden kit is an easy and affordable way to bring the serenity of a Zen garden right into your home, office, or classroom.
Island Falls Home Zen Garden Kit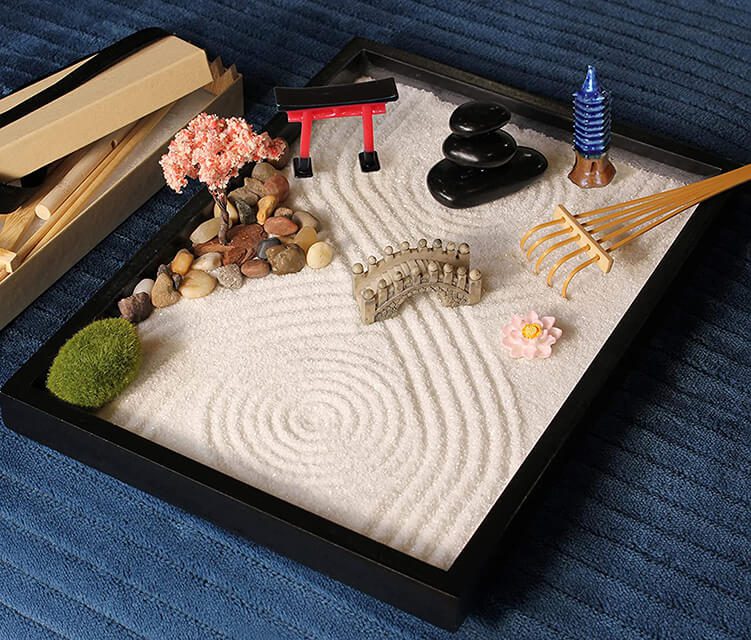 The Island Falls Mini Zen Garden is a perfect addition to a desk or coffee table and works to inspire reflection and relaxation.

It comes with a selection of rakes, pebbles, bonsai trees, and a miniature stone bridge, which are all contained in an attractive black base and contrasting white sand.

I like that this Mini Zen Garden comes with so many accessories, as you can always keep the design fresh and unique, plus you can conveniently keep all the items you're not using in the box.
ENSO - Japanese Zen Garden Kit for Desk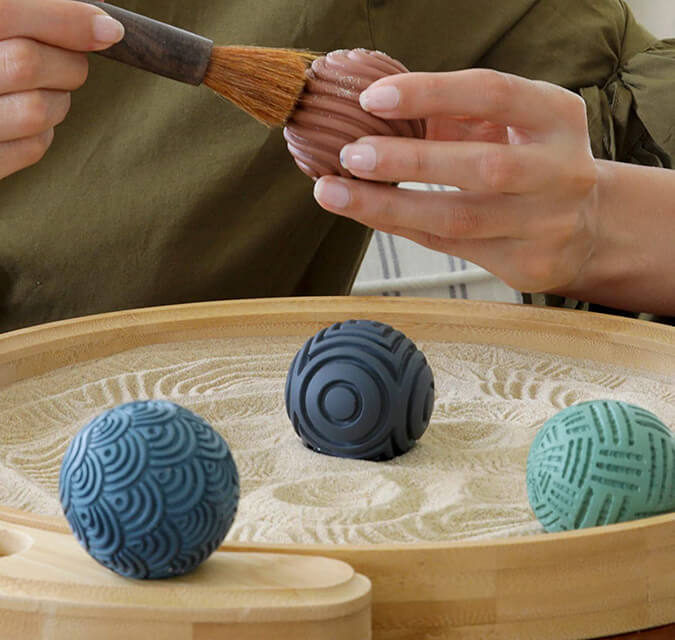 This zen garden kit isn't designed to be used like a traditional zen garden, with accessories and a sand rake to create patterns around them.

Instead, this mini zen garden kit comes with four textured stamp spheres that you use to run over the sand, creating both a beautiful pattern and a sensory experience for your hands.

The spheres, the sand, the ball holder, and the bamboo tray are simplistic in design but also beautiful.

These make for fantastic meditation accessories or amazing gifts for children who like to engage in sensory play.
Nature's Mark Mini Zen Garden Kit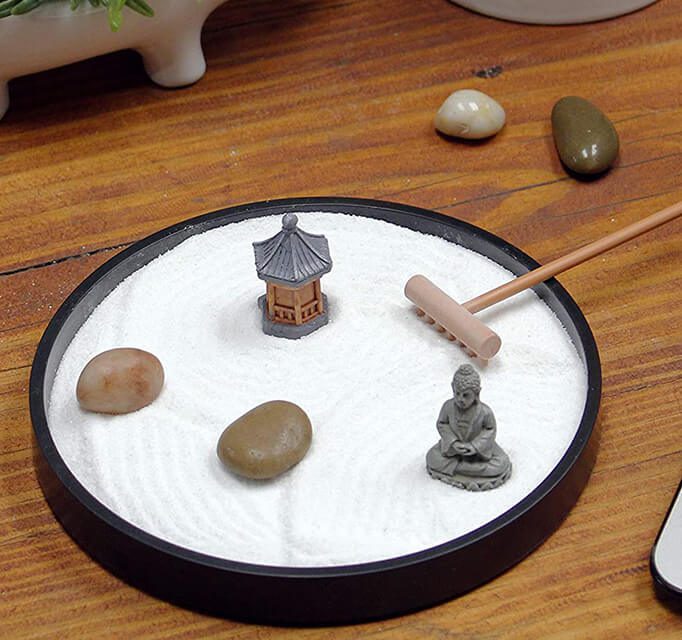 Nature's Mark Mini Zen Garden Kit is a great choice if you are looking for a zen garden that fits into a smaller space, such as your office desk or coffee table.
It has a stylish circular design but only comes with a few accessories, such as a plastic succulent, a mini pagoda, and a few stones.
The base is made from plastic, and the overall quality of this zen garden doesn't feel as impressive as the other kits on this list.
It is, however, relatively inexpensive.
Yin Yang Crystal Sand Garden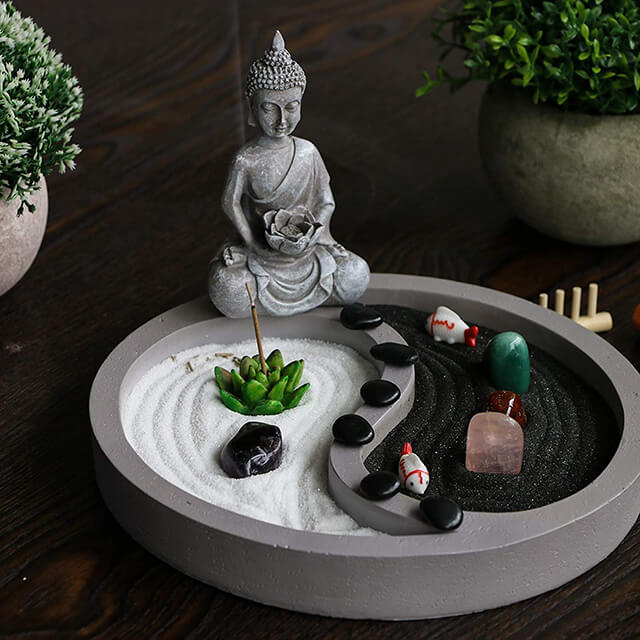 This Zen Garden comes with a few unique accessories that you won't find with other options on this list, including a Buddha Statue, koi fish, an incense holder with incense, and two different colors of sand.
The design of this zen garden being a yin yang means that you get two mini sand pits to play with instead of one.
This limits the space you have to run your rake with, making it not as effective as a stress relief tool compared to other zen gardens.
This zen garden is perfect if you're looking for something a little more decorative instead of something you actually want to use.
Oasis of Calm Zen Garden Kit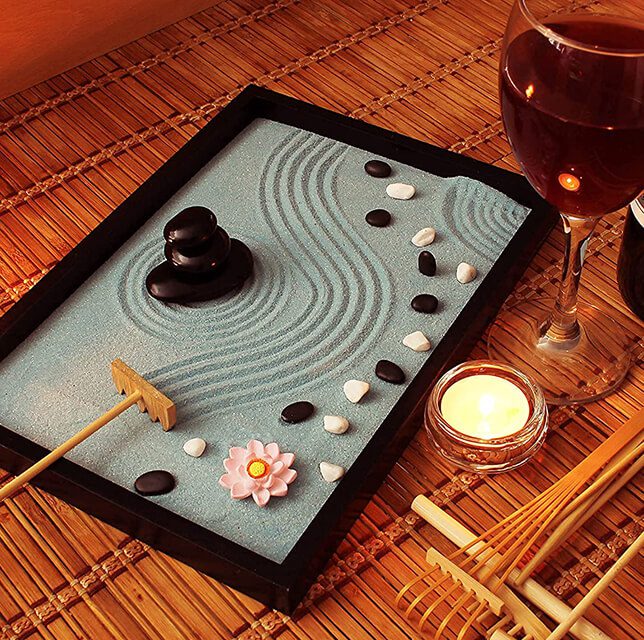 This mini zen garden kit may be the best-looking addition to this list with its handcrafted bamboo black tray and aqua blue sand.
This mini zen garden kit is a functional and easy-to-use stress reliever.
The minimal accessories include a selection of rakes, polished stones, and a lotus flower.
The sand feels high quality, and the whole kit is very sturdy. The sand pit comes in a beautiful presentation box that makes it a great gift idea and an attractive product to keep at home in your living room or office.
A Japanese zen garden, also known as a Karesansui, is a dry garden designed to serve as a place for quiet contemplation.
In Japan, Zen gardens are typically found in temples or monasteries and consist of decorative rocks, trees, and white sand or gravel that is laid out in geometrical patterns with a wooden rake.
In more recent times, Zen gardens have found their way from the monasteries and into people's homes in the form of desktop zen gardens.
These miniature versions of the traditional garden allow you to create a small bit of personal space to relieve stress and induce calm without the high maintenance of a full-sized garden.
What Is The Purpose Of A Zen Garden?
Zen gardens are used to aid in the contemplation of key principles within Zazen (Zen meditation), with the abundance of empty space being a reflection of how our minds should be when meditating.
However, whether you practice Zen Buddhism or not, Zen gardens are still a beneficial tool to use to help you stay calm and focused.
A mini Zen garden kit is particularly useful as it can be integrated into any environment where you feel like you are under pressure and could benefit from a micro-break to refocus your mind.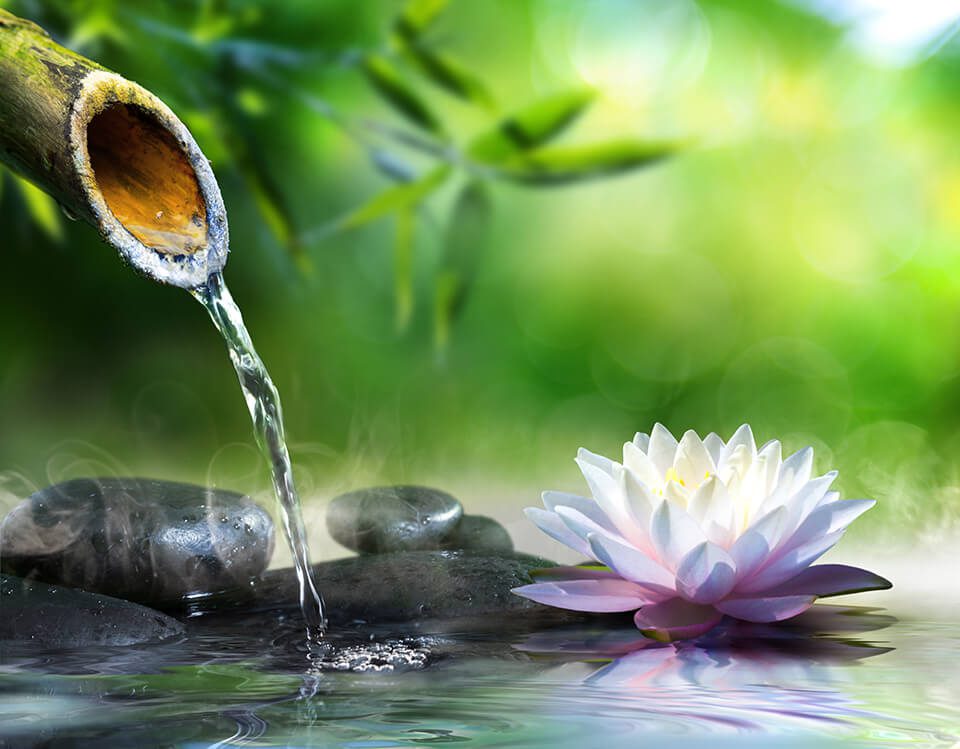 Like any form of mindful movement, zen gardens aid you in redirecting your attention away from whatever is causing you stress and tension by helping you anchor your mind into the present moment.
The patterns you create within the sand of a Zen garden reflect the natural flow of water within a stream or a river.
The idea is that by recreating this flow with your rake, you induce the same calming effect on your mind as you would if you were sitting by a tranquil body of water.
There is also an element of creativity that makes it a great way to exercise your imagination.
Essentially a sand pit for adults, Zen gardens are a pleasant, creative space you can retreat to when you become overwhelmed by the stress of the day, even if the space is just a corner of your work desk.
MindEasy founder & meditation teacher
Griff Williams is an accredited meditation teacher and founder of MindEasy. He spent 12 years working as a London firefighter before changing paths to pursue building MindEasy. He received his diploma in meditation teaching from The British School of Meditation.
In compliance with the FTC guidelines, please assume the following about all links, posts, photos and other material on this website:
Any/all of the links on this website are affiliate links of which MindEasy receives a small commission from sales of certain items, but the price is the same for you.
mindeasy.com is a participant in the Amazon Services LLC Associates Program, an affiliate advertising program designed to provide a means for sites to earn advertising fees by advertising and linking to Amazon.com or endless.com, MYHABIT.com, SmallParts.com, or AmazonWireless.com. Pages on this site may include affiliate links to Amazon and its affiliate sites on which the owner of this website will make a referral commission.