Best Meditation Pillow of 2022: A Meditation Teacher's Top 10
Meditation can be tricky at best, but if you're fed up with aching limbs and joints following a seated meditation session, a meditation pillow may be for you.
While meditators are often encouraged to sit with any niggles or aches that bother them during their practice, there's only so much we can take! 
Many people find the discomfort that comes from sitting on a hard floor for extended periods too much to bear while sitting on a chair or sofa can feel a little too casual.
A meditation pillow is a specially designed pillow made to keep you comfortable and supported while you practice.
Top 10 Best Meditation Pillows
Zafu Zabuton Set From Bean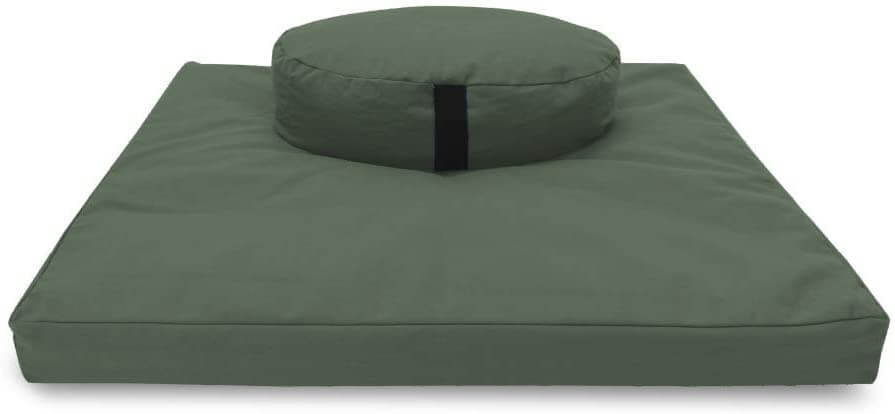 I always prefer to use a Zafu pillow and Zabuton floor cushion set because the extra support to my lower legs and ankles helps me stay focused during prolonged periods of meditation. Sometimes sitting in a cross-legged position for too long can become painful and distracting. 
Having both the mat and the cushion also allows you to practice more types of meditation. For example, using the pillow for your head and the cushion for your upper back, you can practice laying meditations down like Yoga Nidra or Savasana.
The bean pillow and cushion set are available in three different types of fabric; cotton, hemp, and organic cotton, as well as in 26 different colors. This might be worth thinking about as the cushion might be a little bit harder to store, so it's worth getting something that works in your space.  
A word of warning! If you have a dog, be prepared for your cushion to be hijacked as a new dog bed whenever you're not meditating.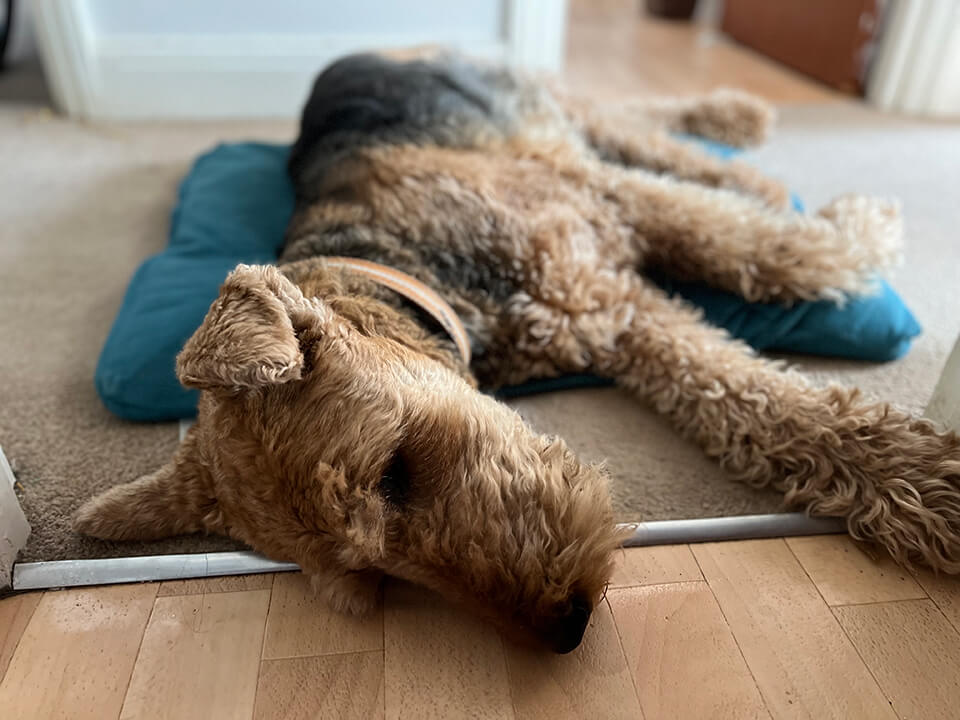 Waterproof Cork Base Yoga Cushion by Monk & Llama
This eco-friendly cushion is 100% handmade from hemp, buckwheat hulls, and cork.

The cushion can also be adjusted to suit your personal preference by adjusting the buckwheat hulls inside.

It's soft yet supportive enough to offer comfort while you meditate, but firm enough that it won't sag or shift during your practice.

This will enable you to experiment with different meditation positions. It's exceptionally comfortable for people who like to sit on their knees.

The cork base is wipable, easy to maintain, and has a sturdy carry handle, making it a great option if you like to meditate in nature.

Out of all the pillows on this list, I think this one has the most unique look and style.
It will look great in any modern home environment with its natural, earthy tones and vibrant patterns.
Sedona Zafu Crescent Meditation Cushion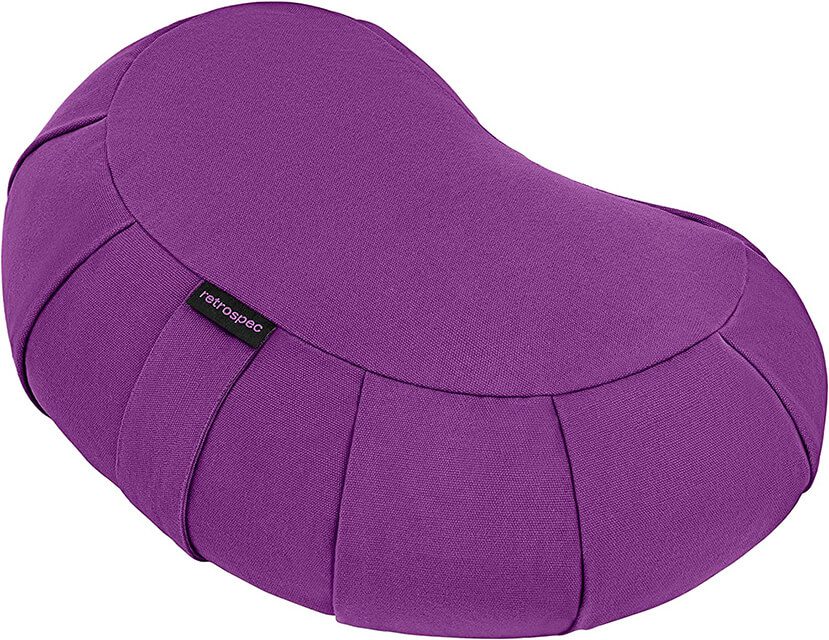 This crescent-shaped pillow is designed to give extra support to the hips, legs, and thighs.

It's also easier to maintain a straight and neutral spine when using this pillow due to the position of your legs being lower than your hips.

V-shaped cushions also offer multi-purpose functionality, doubling up as a yoga block, which is very handy if you practice both. It has a carry handle, making it convenient to take to both a meditation and yoga class.

This is also the most compact pillow on the list, making it easy to tuck away into a cupboard or under a bed.
Traditional Tibetan Zafu From Supernova Care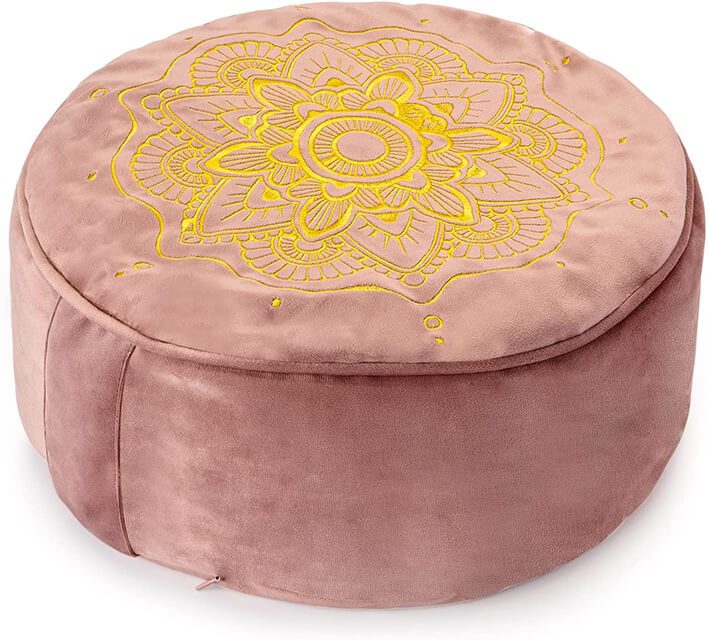 A traditional zafu pillow is a perfect meditation pillow for new and experienced meditators alike.
Made from soft dutch velvet and filled with organic buckwheat hull, this cushion is light yet supportive and comfortable to sit on while being gentle on the body.
The mandala embroidered design makes it a decorative addition to any home or meditation space.
As with traditional Tibetan cushions, the buckwheat hulls provide a natural form of temperature control, so you'll never be too hot or too cold during your practice.
The pillow also comes with an easy-to-carry handle making it easy to transport to a meditation class or a yoga studio.
HIGOGOGO Turquoise Meditation Pillow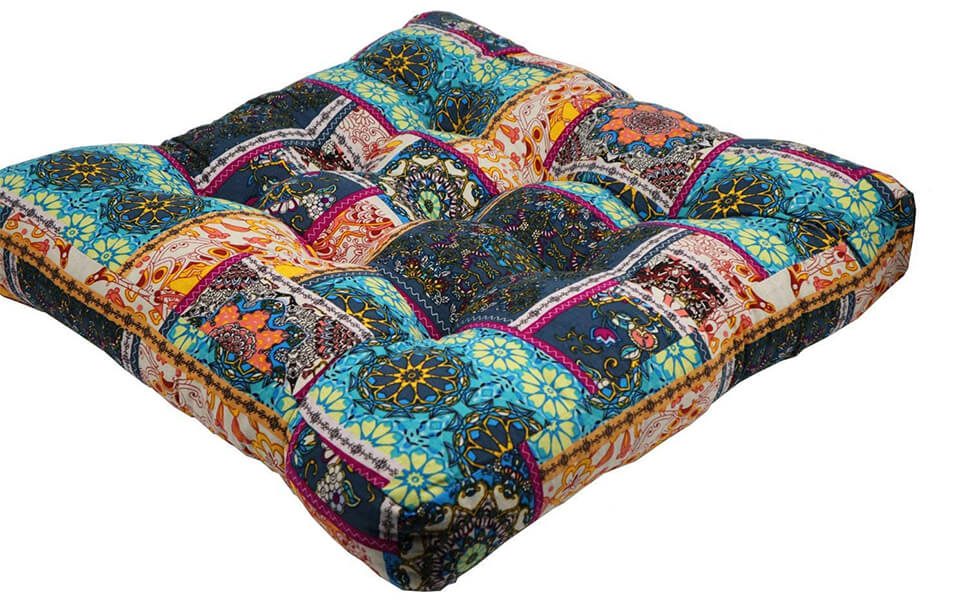 If you want a pillow that can double up as furniture in your house, look no further than the HIGOGOGO turquoise meditation pillow.
Not only does this pillow look fantastic, but it offers a degree of luxury and extra comfort, perfect for meditative practices.
There are 20 different bohemian designs to choose from that you can get in either a square or a circle.
As well as looking beautiful, it's also functional; the plush foam filling of the cushions is so comfortable and supportive that they can be used as a comfy seat or a footrest during a movie marathon as well as being a supportive meditation platform.
Mindful & Modern Adjustable w/Folding Backrest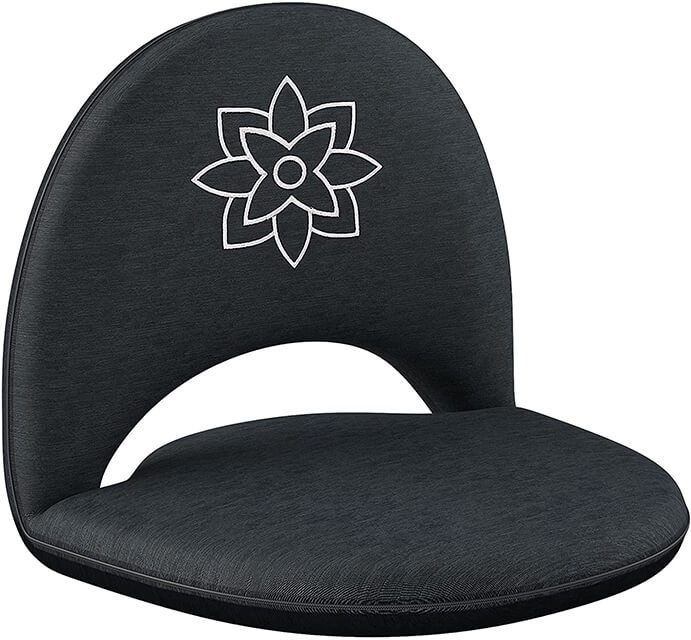 Those who begin to feel uncomfortable while meditating in a sitting position may want to consider a meditation chair.

This adjustable meditation chair can be used like a traditional meditation cushion but can also provide a backrest that gives full 90° lower back support.

This will help promote a healthy and robust meditation position which is excellent if you're a beginner or suffer from soreness after sitting upright for extended periods unsupported.

The chair folds flat for easy storage and has a wipable base, making it perfect for outdoor sessions.
Kapok Dreams Foldable Meditation Pillow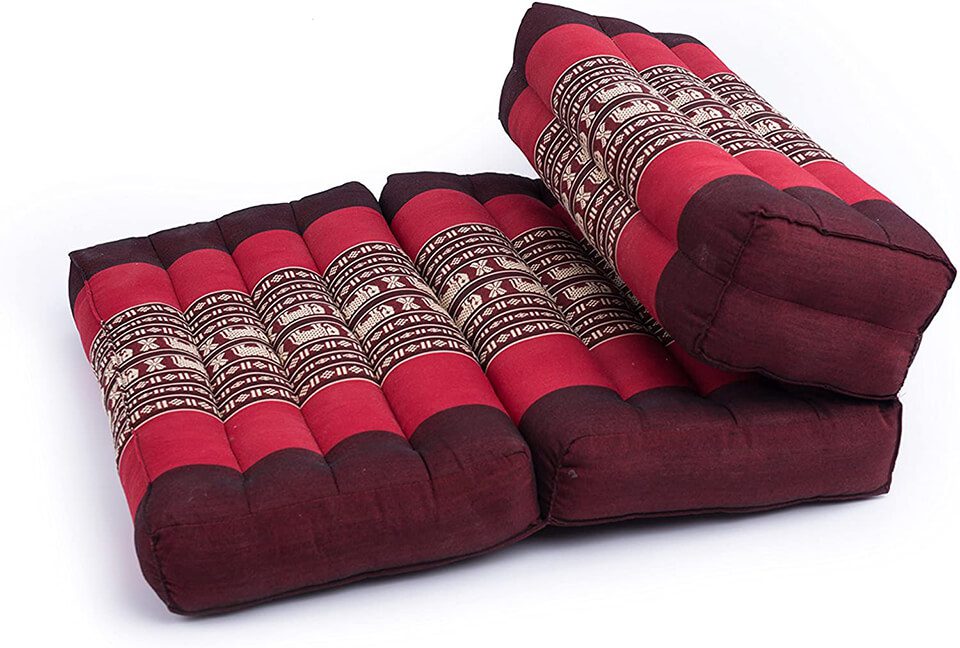 The Kapok foldable pillow is the perfect mix of versatility and style. This pillow can be adjusted to a number of different positions depending on your needs, either in a traditional seated pose or as lumbar support for lying meditation practice.

This pillow can do everything, and it looks great while doing it!

The 100% Kapok filling makes for a sturdy yet comfortable cushion, while the beautiful cotton fabric adds elegance to any space.
Florensi Yoga Bolster Rectangular Pillow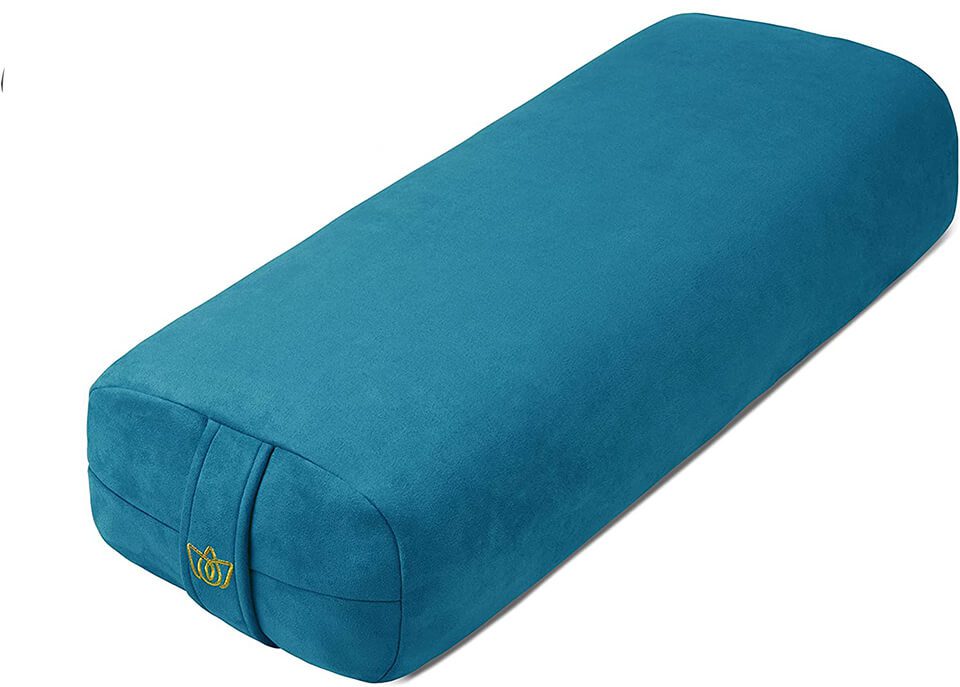 A rectangle pillow is somewhere between a yoga block and a meditation cushion. Like a V-shaped cushion, the rectangular pillow helps promote a strong stature due to the lower position of your legs when sitting on it.
These types of pillows are not the best option if you struggle with holding a sitting position without much support. However, if you do practice yoga, this probably won't be a problem.
If you do practice or are planning to start, this will be a great addition to your equipment, giving you support when learning new poses and aiding in all manner of stretches.
This Zabuton Meditation Mat has everything you need to feel relaxed and supported during your regular meditation practice.
The comfortable base is over 4 inches of soft cushion made from Kapok covered in an organic cotton liner that can be ordered in two different sizes, medium and large.
Both of these covers are removable and washable for years of use.
The sturdiness of the Maya Kapok filling helps you sit in a comfortable position whilst also promoting proper posture.

Although it may look like something you might find in a spaceship, the Alexia meditation seat offers many benefits to those serious about their meditation practices.

While the Alexia Meditation Seat costs over $200, you get a lot for your money with this ergonomic chair. The seat is constructed from a steel frame covered in high-density foam and leather.

The seat is designed to sit crossed-legged across the chair's wings while your back is supported and your legs and feet fold into the open area below.
What Is a Meditation Pillow?
A meditation pillow is a small pillow designed to keep you supported and comfortable during your practice. You'll be encouraged to keep your core engaged, your spine neutral, and your neck in alignment. 
Without proper support, it can be very difficult to sit correctly. While we may start our practice sitting with good posture, a straight back, and an engaged core, fatigue will soon set in. 
Often without even realizing it, we collapse our stomachs, curve our backs and hunch our shoulders.
When this happens, our hips, spine, shoulders, and head become misaligned, leading to discomfort and even physical injury long-term.
Meditation cushions are designed to improve your posture and keep your hips, back and neck aligned. You'll be supported from the bottom up, able to engage your core without collapsing and hunching over.
This can lead to greater comfort and boost strength so that you are eventually able to maintain your posture for longer.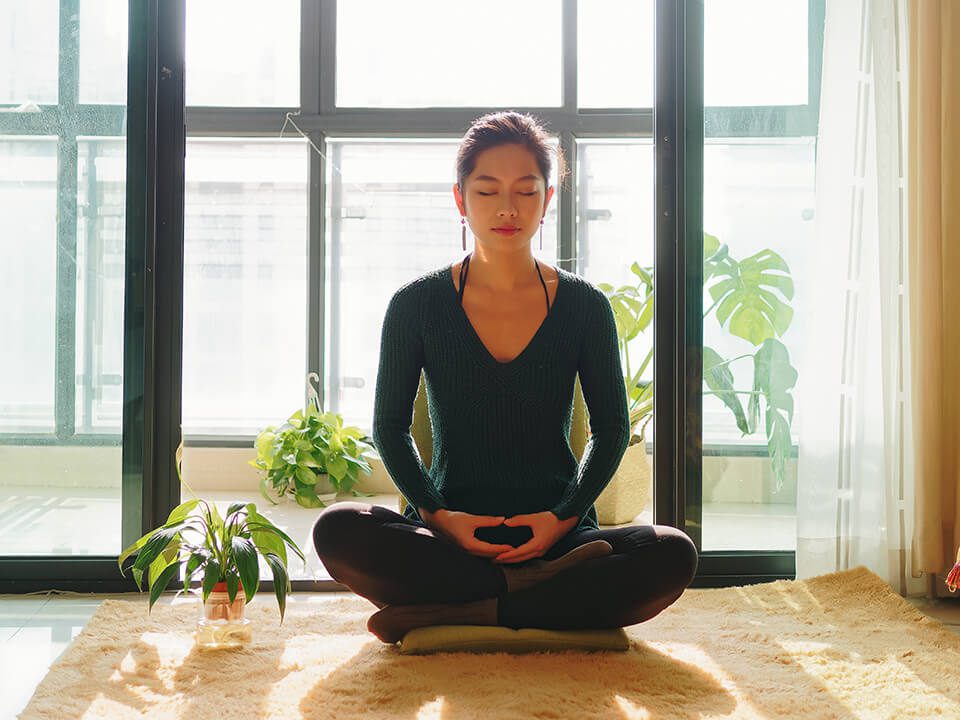 How Do Meditation Pillows Work?
Meditation pillows are very useful when it comes to helping you make the most of your practice. Small niggles and areas of discomfort can lower your concentration, and you may find it difficult to focus.
A meditation cushion can help you stay comfortable and focused, allowing you to meditate for longer periods of time without distractions.
Meditation pillows are a popular meditation tool because they can help enhance your practice. If you're constantly feeling uncomfortable or a little sore, you're not going to focus fully on your practice.
You may find yourself wriggling and struggling to concentrate. Those new to meditation may find that the constant aching puts them off meditating altogether!
Meditation pillows can also boost your posture long-term. Sitting with good posture throughout the day can help prevent a huge range of injuries while also keeping you alert and energized. We all know the importance of good posture, but very often, we begin to slouch and collapse at our core without even realizing it!
Starting the day with a few minutes spent sitting properly, supported by a meditation cushion, will help you through the rest of the day. You may find it easier to remember to keep your shoulders back, and your stomach engaged while you work, eat and relax.
The Different Kinds of Meditation Pillows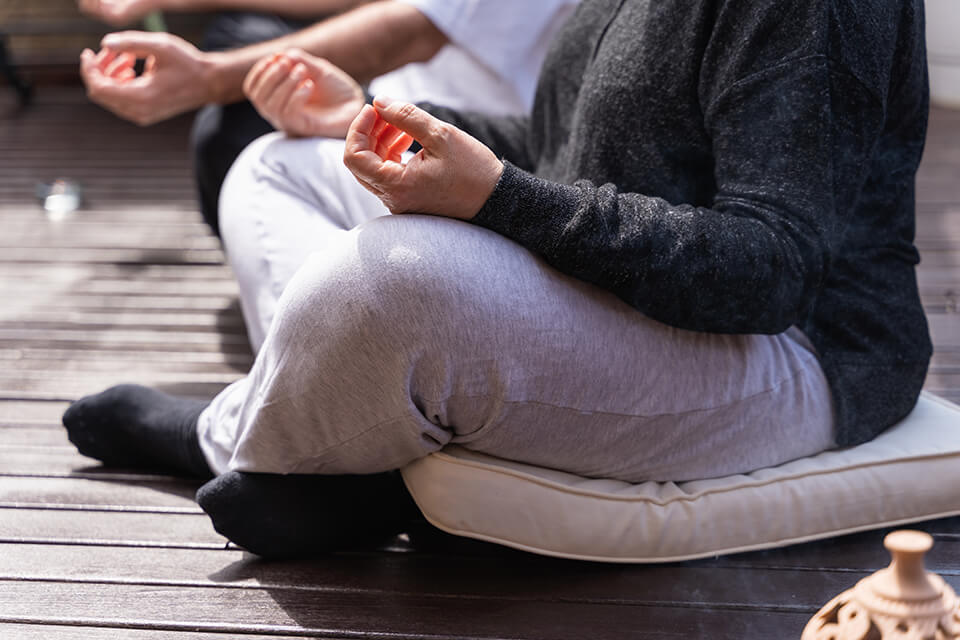 There are three main types of meditation pillows, Zafu pillows, V-shaped pillows, and Zabuton pillows.
Zafu pillows are round cushions that elevate your pelvis. V-shaped pillows do the same, but they offer a little more support to your legs and thighs.
Zabuton pillows are simple rectangular cushions and are often used underneath Zafu pillows for added comfort. 
There's a range of types of meditation pillows on the market. While some people prefer to sit on a cushion with their legs crossed in front of them, others need a cushion with a little more support for their knees.
Whichever pillow you purchase, the aim is for your back to be neutral, and you should feel grounded and stable.
It's important that there's not too much tension in your body but that you aren't so relaxed you slouch over!
Zafu cushions are one of the most popular options. These are round cushions with gathered sides.
They support your buttocks and hips while your legs drop off the edge of the cushion, so your knees rest against the floor.
Zafu cushions help your spine stay neutral and your neck aligned.
Zafu pillows are best suited to those used to sit for long periods.
They are not a magic fix, and many people still find them a little tricky to get used to, but stick with them, and they offer great support during your meditation practice.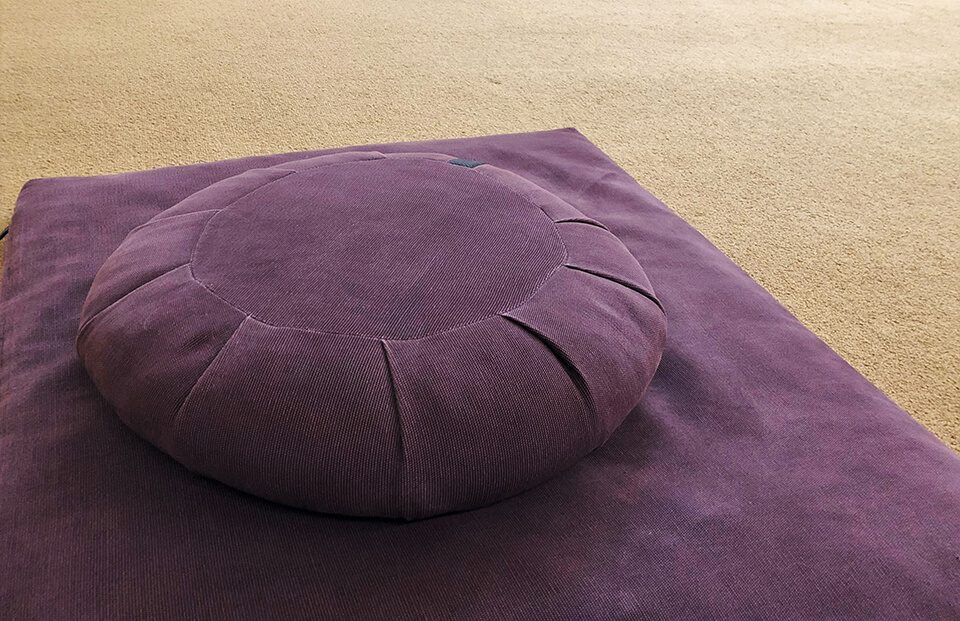 V-shaped cushions are another option. These cushions provide ample support for your hips and thighs, promoting healthy posture and supporting your legs.
Like the Zafu pillows, V-shaped pillows keep your knees lower than your hips and make it easier to maintain a neutral spine position.
They are a good alternative for those who don't find Zafu pillows particularly comfortable, and most have a zipped opening so you can adjust the filling to suit you.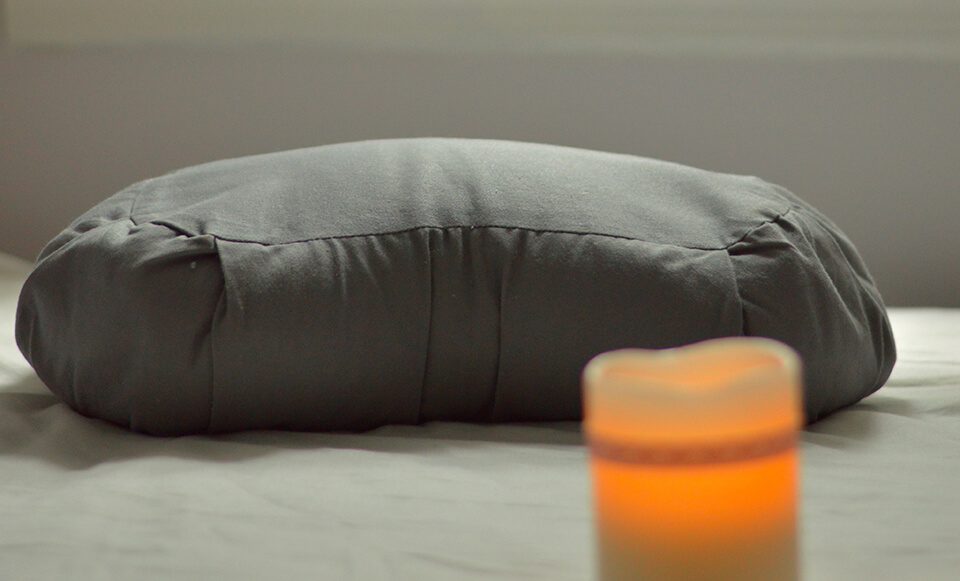 Zabuton pillows are rectangular cushions that make either sitting or kneeling more comfortable.
Zabuton cushions have a flat bottom and rounded top to give you stability while you sit. They have good knee support thanks to their larger size, and many people choose to fold them slightly to elevate their pelvis.
Many people use a Zafu cushion on top of a Zabuton cushion. This offers the best of both worlds, as your pelvis will be elevated, with your knees gently cushioned.
For those serious about comfort when it comes to their yoga practice, a combination of a Zafu and Zabuton cushion is perfect!
Sitting on the floor to meditate can be very uncomfortable without the right support.


When we get tired, our core collapses, our shoulders hunch, and our backs become misaligned. We may feel achy or sore and struggle to focus on our practice.


A meditation pillow can help you maintain good posture, with a neutral back and a strong core.



There are three 

types of meditation

 pillows that are often used for home practice; Zafu pillows, V-shaped pillows, and Zabuton pillows.


Zafu cushions support your hips and pelvis while helping to keep your back neutral.


V-Shaped pillows are better for beginner meditators as they are slightly more comfortable than Zafu cushions. The filling can often be adjusted to suit you.



Zabuton pillows are rectangular cushions with a range of uses. They are often used underneath Zafu cushions to support the knees as well as the hips and pelvis.
MindEasy founder & meditation teacher
Griff Williams is an accredited meditation teacher and founder of MindEasy. He spent 12 years working as a London firefighter before changing paths to pursue building MindEasy. He received his diploma in meditation teaching from The British School of Meditation.
In compliance with the FTC guidelines, please assume the following about all links, posts, photos and other material on this website:
Any/all of the links on this website are affiliate links of which MindEasy receives a small commission from sales of certain items, but the price is the same for you.
mindeasy.com is a participant in the Amazon Services LLC Associates Program, an affiliate advertising program designed to provide a means for sites to earn advertising fees by advertising and linking to Amazon.com or endless.com, MYHABIT.com, SmallParts.com, or AmazonWireless.com. Pages on this site may include affiliate links to Amazon and its affiliate sites on which the owner of this website will make a referral commission.