Meditation Bench Guide: How to Use Them and an Instructor's Top Pick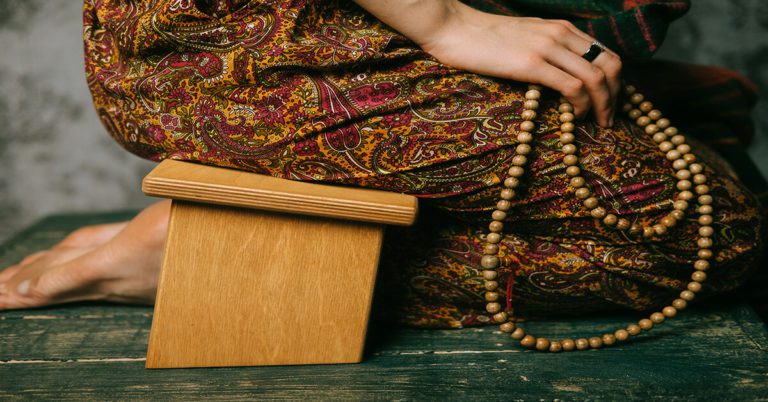 Anyone who has tried meditation knows how distracting your sitting position can become. Your back becomes sore, your legs go numb, and you constantly twitch on the floor, trying to get comfortable.
A meditation bench can help alleviate these problems by giving you a stable, off-the-floor meditation position that promotes proper posture and blood flow through your legs.
I experimented with several benches during my meditation practice to find the one that suited my needs. After all that trial and error, I composed this guide on meditation benches to share what I learned.
Top 5 Best Meditation Benches
Monk & Llama Kneeling Meditation Bench
The monk and Llama is a light and portable bench with collapsible legs, making it incredibly simple to store away and travel with.

It also has a basic cushion that is removable and thin but supportive.
The pillow comes in a variety of color options to choose from to match your decor.

Made from 100% bamboo, this bench is very light and easy to carry, made even easier to carry with its included carry bag.

I would recommend this bench to anyone who wants the option to take their bench with them to yoga or meditation or want to meditate in nature.
BLUECONY Meditation Bench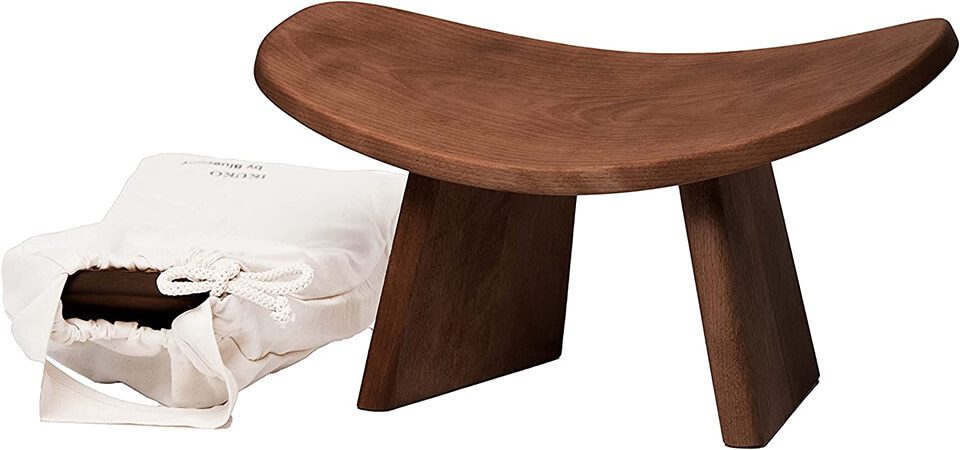 The Blucony's is probably my favorite bench on this list. The curved and arched seat is ergonomically designed to provide maximum comfort and support without needing an additional cushion.

The legs are situated in the middle of the seat, meaning your feet can spread out without squashing into them.

And although the legs aren't foldable, they can be removed, and the whole bench can fit within a small carry case that they provide, making it easy to store and portable.
There are three size options available, so you'll be able to find something that fits. This is perfect for taller people who may struggle with other benches.

Overall this is a well-made, high-quality product, if not quite expensive, but I think it's worth it for the quality.
Curved Bottom Edge from Waterglider
This meditation bench is unique because its curved feet allow you to slightly adjust your position while meditating.

This is an excellent choice for people who have never used a bench before as it allows experimentation when finding your preferred position.

This bench also has a thick cushion, making it extra comfortable. Again, perfect if it's your first meditation bench and you are worried about sitting on the hardwood for extended periods.
This bench is handmade from acacia wood and extremely sturdy.
However, it is quite chunky, and as the legs don't fold it will take up a bit of space in your home.
Still Sitting Nomad Meditation Bench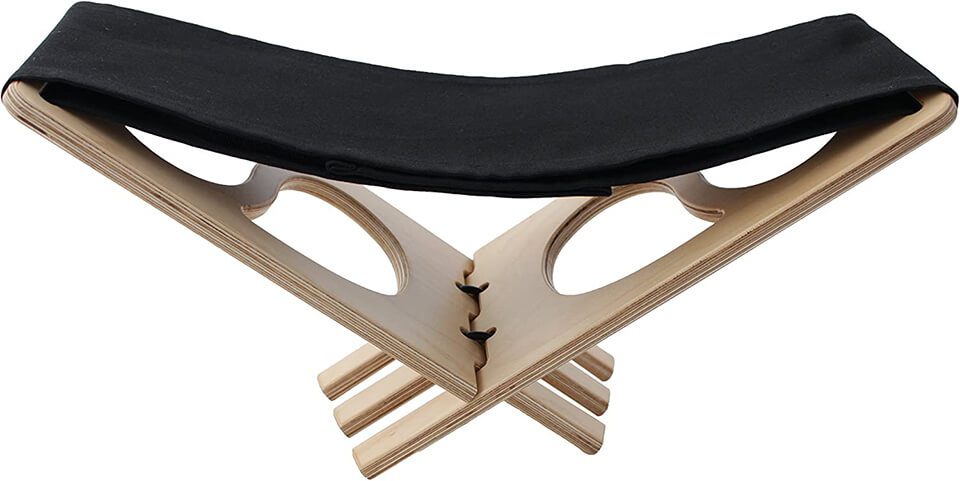 The Nomad meditation bench is designed almost like a deck chair with a fabric seat that lets your body sink into it, finding its own optimal position.

This bench is very lightweight and designed to fold almost entirely in on itself, making it super easy to store while not compromising on comfort.

This makes it a good choice for those looking for a portable meditation bench but unwilling to compromise on comfort.
IPPINKA Foldable Meditation Bench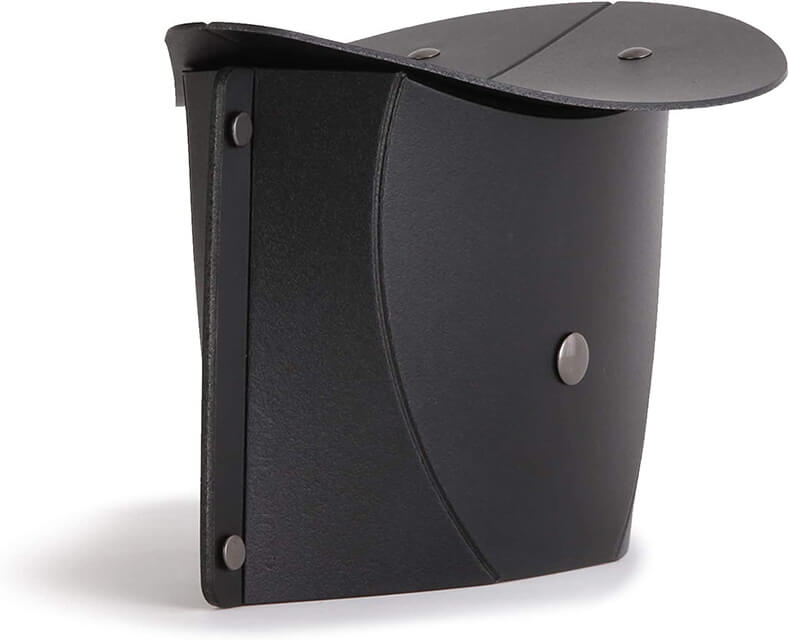 This cheap and convenient option Ippinka is perfect for people who want to experiment with a kneeling meditation bench but are not yet ready to commit over one hundred dollars for the privilege.

Made from rigid plastic, this bench doesn't look like much, but it's a sturdy and tough product.

The top of the bench has a gentle curve that fits comfortably into the body, and the whole thing collapses into what looks like a plastic wallet making it great for travel.

Overall, this is a good choice for those looking to start with meditation benches or who want something cheap and simple to use.
How to Use a Meditation Bench
Begin by creating a peaceful meditation space. Somewhere quiet, where you won't be disturbed, with enough room for your bench and maybe a blanket or cushion
Step 1 : Stand in front of your bench.
Have the bench fully assembled and place it either in front of you or just off to the side.
Step 2 : Kneel on the floor.
Kneel down on the floor behind or next to the bench. If the floor feels too hard, fold up a towel or a blanket and kneel on that. You could also use a Zabuton meditation cushion for this.
Step 3 : Position the bench.
Place the bench over your feet or ankles, depending on how long your legs are, and then sit down on the bench. Make sure your back is straight, and adjust the bench so that none of your weight is on your legs.
Step 4 : Place your hands on your lap.
Either in Swadhisthana Mudra (palm resting on palm) or with your palms resting on your thighs. Adjust anything that doesn't feel comfortable.
Benefits of a Meditation Bench
Sitting crossed-legged for a long duration can cut off the blood through to your legs, causing them to go numb.
Meditation benches take all the load off your legs, allowing for better blood circulation to meditate more comfortably for longer.
Most benches also have an angled seat that promotes a straight spine and a comfortable posture. This helps you stay alert and focused while meditating.
They also allow you to adjust your position to suit you. For example, some benches will enable you to adjust the angle of your torso, so even if you prefer to sit with your back upright, you can relax into without needing to move the bench.
Also, the padded top ensures you'll be as comfortable as possible without using any additional meditation pillows.
MindEasy founder & meditation teacher
Griff Williams is an accredited meditation teacher and founder of MindEasy. He spent 12 years working as a London firefighter before changing paths to pursue building MindEasy. He received his diploma in meditation teaching from The British School of Meditation.
In compliance with the FTC guidelines, please assume the following about all links, posts, photos and other material on this website:
Any/all of the links on this website are affiliate links of which MindEasy receives a small commission from sales of certain items, but the price is the same for you.
mindeasy.com is a participant in the Amazon Services LLC Associates Program, an affiliate advertising program designed to provide a means for sites to earn advertising fees by advertising and linking to Amazon.com or endless.com, MYHABIT.com, SmallParts.com, or AmazonWireless.com. Pages on this site may include affiliate links to Amazon and its affiliate sites on which the owner of this website will make a referral commission.